Norman Swan's Health Report has featured an item about people with blood malignancies and their response to Covid-19 vaccines.
The item relates to new research published in the Lancet Haematology.  This research found that people with blood malignancies may not produce as many protective antibodies to the vaccines as others.
This is because in blood cancers, the immune system itself is affected.
Norman interviewed haematologist, Associate Professor Kate Burbury, about this research.  A brief extract is below as well as the link to the article.
Kate Burbury:  Most of us [haematologists and oncologists] would be advocating some protection is better than none. And the only concern we would have is that they [the blood cancer patient] might not mount an adequate antibody response and therefore advocating that they continue to pursue the usual protective mechanisms such as keeping themselves safe and avoiding people that might have infective symptoms.
The interview transcript, podcast and the research in the Lancet Haematology are linked HERE.
Encouraging responses for MPN patients to Covid vaccines
Subsequent to the above article, the Leukaemia and Lymphoma society in the US has outlined the response of  different blood cancer patients to Covid vaccines and while a small sample, the results are very encouraging for MPN patients, showing some 97% of patients had detectable Covid-19 antibodies.
The graphic is below and the full article is linked HERE.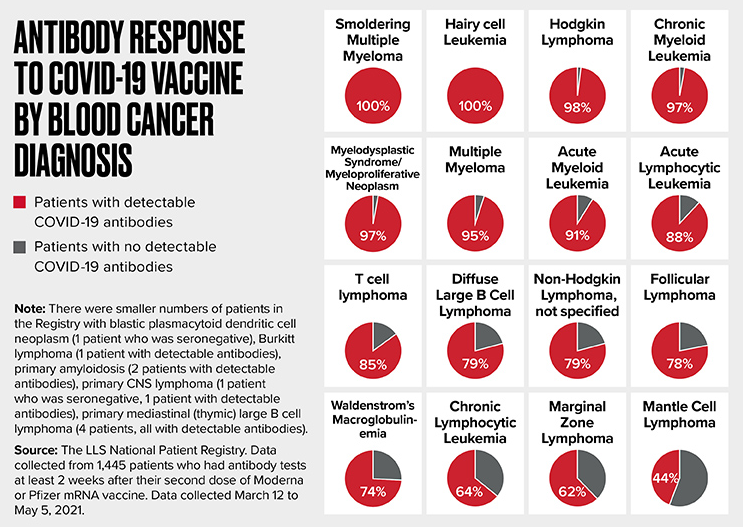 https://www.mpnallianceaustralia.org.au/wp-content/uploads/2018/07/favicon-mpn-aa.png
430
430
Jenny
https://www.mpnallianceaustralia.org.au/wp-content/uploads/2019/01/MPNAA_logo_og_image_1200_630-e1643087758121-1030x391.jpg
Jenny
2021-07-19 20:36:59
2021-09-20 20:55:24
Protection against COVID for people with blood cancers